Product Details
Eye Envy® Beard Stain Remover Spray (formerly known as Off the Beard) is designed with a perfect blend of all natural ingredients to eliminate stains on your cat's or dog's fur. Whether they're caused by the oxidation of saliva, artificial coloration within food and treats, run-off from tearing on smaller pets or a yeast infection called pityrosporum or ptyrosporin (a.k.a., "red yeast"), this cat and dog beard stain remover eliminates them quickly and safely.
What Causes Fur & Beard Stains?
There is a variety of mild to severe health problems that can contribute to the excessive accumulation of iron-containing molecules called porphyrins on the beard that can cause staining. Periodontal disease, conformational abnormalities and difficulty chewing can all cause drooling, which may accumulate around the mouth and develop the appearance of dark stains.
All-Natural Cat & Dog Mouth Stain Remover
With similar antiseptic herbal extracts as in our Eye Envy Tear Stain Solution for Dogs and Cats, our Eye Envy Beard Stain Remover Spray gets rid of stains and promotes a clean, odor-free, kissable beard on your pet.
This fur and beard stain remover is ideal for dog breeds such as Maltese, Shih Tzu, Havanese and Schnauzer, as well as light-haired and white cats.
Eye Envy Beard Stain Remover is alcohol and sulfate free. This product does not contain bleach, peroxide or any whitening agents.
Watch our video about Eye Envy Cat & Dog Beard Stain Remover.
Did you know?
You can also eliminate beard stains by limiting your pet's consumption of pet food with high grain or cereal content, and by using steel or ceramic dishes instead of plastic dishes. Keep dishes clean to minimize beard staining. Do not use any whitening or brightening shampoos, peroxide or bleach on the stains, as these can set stains in.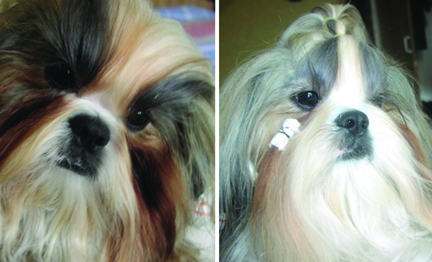 How to Use
Shake bottle well, spray beard area generously allowing product to dry naturally. Repeat as necessary.
Apply daily until the beard stains are gone, then maintain weekly or as needed.
Store at room temperature.
Active Ingredients
We use only all-natural, human-grade ingredients that we test on ourselves first. We are cruelty-free. Our products do not contain parabens, peroxide, bleach, steroids, antibiotics (such as Tylosin), or other harmful agents. Natural active ingredients in this product:
Eye Envy Beard Stain Remover Spray Ingredients
Natural Cleanser
This natural cleaner is also a stain/odor remover, perfect for beard staining. It is also antifungal and antibacterial, which helps reduce stains when the cause is an excess of porphyrins (causing red stains or known as "red yeast") or a condition known as Malassezia.
Witch Hazel
Witch Hazel's astringent properties are perfect for killing bacteria. It also keeps the area dry, making it an unfavorable environment for the production of yeast.
Colloidal Silver
A natural antibacterial, antiviral and anti-inflammatory, which mimics the properties of antibiotics and has been used for centuries to ward off infection. Colloidal Silver will help control and stop the secretion of porphyrin found in tears and saliva, which causes the deep reddish-brown stains.
Videos
Reviews
I have a mini schnauzer with a white beard-this does a nice job - -- it works well........I'm glad to use this because I don't have to worry about the ingredients....

I have a Berniedoodle puppy with white beard. I have used this faithfully for two weeks and it has not changed his discoloration on beard; maybe just a little on his front paws. He has not had any other products used

Beard stain remover, great for paws!

My dog doesn't have a beard but she licks her paws and since she has white fur, her paws turn pink/orange. I applied the product on her paws daily for the first week and now just use it once a week or as needed. I also use it around her ears as the fur sometimes becomes brownish/pinkish around that area as well. All the staining is gone.

Unfortunately, this product is not working for my Maltese. I wish it did. He is so beautiful and I'd love to reduce his stains. The company is professional and responsive, but the product didn't work (for me).

This is my second bottle. Use it along with Eye Envy facial foam soap to keep my malteses' beards clean and white. Love it!!

I love this product and so easy to use!

I have tried everything before this. It really works. My dog had severe red/brow/yellowing in his beard. I'm going to use this forever. Thank you!

Beard Stain Remover for Cat

I used it on my cat's beard fur. Works excellent since the first application.

This product is awesome. My white cat gets yellow stains from his food. After one use I saw the stain lighten.

Off the Beard Stain Remover

This product is great. My white Maltese gets brown stains from her food. After just one use I saw the stain lighten. After the second application, the beard stains are completely gone. I have been using it twice a day to keep her beard clean.